Plants of the Week Advanced Search
Search results for "Gethyllis" (displaying 3 of 3 on page 1)
Refine your search
Sort by date added
Sort Alphabetically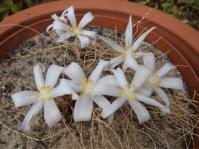 Common names:
kukumakranka, many-leaved Cape crocus (Eng.); bramakranka, koekoemakranka (Afr.).
... Duncan Kirstenbosch National Botanical Garden July 2023   Gethyllis afra grows from a deep-seated, rounded, scaly bulb ... in early to mid summer, late November to January. Fig. 2 : Gethyllis afra has spirally twisted leaves with smooth ... surfaces . Photo Graham Duncan The leaves and flowers of Gethyllis afra can be confused with those of G. ciliaris . In ...
10 / 07 / 2023 | Graham Duncan | Kirstenbosch NBG
Read More
Common names:
hairy kukumakranka (Eng.); kukumakranka, koekemakranka, kroekemakrank (Afr.)
... article. A tiny bulbous plant of 30 to 150 mm in height, Gethyllis villosa has loosely spiralled strap-like leaves ... 34 and 115 seeds. The berries and seeds resemble those of Gethyllis campanulata in size and shape. Gethyllis villosa is found in 2 provinces of South Africa, ...
10 / 10 / 2022 | Asiphe Mtsuma | Karoo Desert NBG
Read More
Common names:
kukumakranka (Eng.); koekoemakranka, bramakranka (Afr.)
... Kirstenbosch July 2004 Images : Colin Paterson - Jones   Gethyllis , like most other plants adapted to temperate ... verticillata . Unlike most Amaryllidaceae, the leaves of Gethyllis are often hairy. The hairs are simple and evenly ... together, which adds to the density of the covering.   Gethyllis differs from most of its relatives by having just ...
19 / 07 / 2004 | D Snijman | Compton Herbarium
Read More