Plants of the Week Advanced Search
Search results for "Gibbaeum" (displaying 2 of 2 on page 1)
Refine your search
Sort by date added
Sort Alphabetically
Common names:
baby bums (Eng.); bababoutjies, hondebalvygie, hondebal, volstruiswater (Afr.)
... Karoo Desert National Botanical Garden July 2018   Gibbaeum heathii is a robust, compact, clump-forming, ... is a slow growing succulent, but can live for many years. Gibbaeum heathii can grow in and out of quartz outcrops and ... region and thrives in areas with minimal rainfall. Gibbaeum heathii are small button-shaped succulents that ...
23 / 07 / 2018 | Ricardo Riddles | Karoo Desert NBG
Read More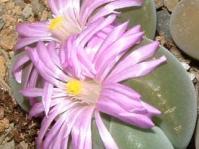 Common names:
mimicry plants (Eng.); volstruistone (ostrich toes), duimpie-snuif (thumb snuff), papegaaibek (parrot beak), vinger-en-duim (finger and thumb), visbek
Family:
Mesembryanthemaceae
... leaves and occurs in the Knersvlakte. The leaves of Gibbaeum often look velvety, as many species have tiny hairs ... then 20 years in the wild. Most species within the genus  Gibbaeum  are restricted to growing in the Little Karoo, ... after there has been precipitation and the soil is moist. Gibbaeum Gibbaeums grow easily either from seed or from ...
15 / 06 / 2009 | D Raimondo | TSP
Read More