Plants of the Week Advanced Search
Search results for "Gomphocarpus" (displaying 3 of 3 on page 1)
Refine your search
Sort by date added
Sort Alphabetically
Common names:
balloon milkweed, balloon wild cotton, hairy balls, bindweed (Eng.); balmelkbossie, balbossie, wilde kapok (Afr.); umbababa, umbemiso, umangwazane, um
... Botanical Garden January 2010 Gomphocarpus physocarpus is an upright, soft shrub 0.5 to 2 m tall with a ... milky white latex that is poisonous if ingested. Gomphocarpus physocarpus is widespread in South Africa, occurring in the ...
04 / 01 / 2010 | Alice Notten | Kirstenbosch NBG
Read More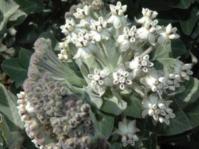 Common names:
wild cotton (Eng.); bergmelkbos, bergtontelbos, dermhout, gansiesbos, katoenbos, melkbos, regopmelkbos (Afr.)
... National Herbarium April 2008 Gomphocarpus cancellatus  is a perennial herb or shrublet 0.5-1.5 m tall. It ... to August.  Like most members of this genus,  Gomphocarpus cancellatus  also has a weedy nature. Gomphocarpus ...
14 / 04 / 2008 | Stoffel Petrus Pieter Bester | National Herbarium Pretoria
Read More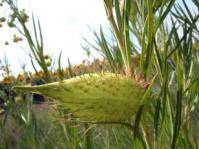 Common names:
milkweed, wild cotton (Eng.); gansie, melkbos (Afr.); Lebegane (Sotho); Umsinga-lwesalukazi (Zulu)
... disturbed areas on the roadside and abandoned fields. Gomphocarpus The milkweed is rarely cultivated other than in  gardens of ... them in individual pots until they are planted. Gomphocarpus fruticosus is a herbaceous, perennial, spindly shrub, often with ...
28 / 11 / 2005 | Alec Naidoo | Pretoria NBG
Read More