Plants of the Week Advanced Search
Search results for "Gonialoe" (displaying 2 of 2 on page 1)
Refine your search
Sort by date added
Sort Alphabetically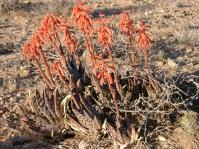 Common names:
partridge aloes, partridge-breasted aloes, tiger aloes, variegated aloes (Eng.); bontaalwyne, bontbees, kanniedood aalwyne (Afr.)
... for kindly supplying the images used in this contribution. Gonialoe is a genus of three species that were previously ... Aloidendron (tree aloes), Aristaloe (awn-leaf aloe), Gonialoe (variegated or kanniedood aloes), and Kumara (fan aloes).With only three species, Gonialoe is among the smallest of the alooid genera. Gonialoe ...
17 / 10 / 2022 | Ronell R. Klopper | National Herbarium Pretoria
Read More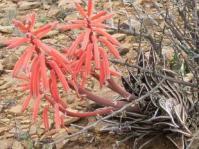 Common names:
partridge breast aloe (Eng.); kanniedood, bontalwyn (Afr.)
... Botanical Garden June 2008, updated August 2021   Gonialoe variegata is classified as a dwarf aloe and is ... Seeds ripen normally around September to November. Gonialoe variegata is found over large areas in the arid or ... the Namaqualand and Succulent Karoo veld of South Africa. Gonialoe variegata produces nectar and is therefore ...
30 / 06 / 2008 | Werner Voigt | Harold Porter NBG
Read More