Plants of the Week Advanced Search
Search results for "Gymnanthemum" (displaying 2 of 2 on page 1)
Refine your search
Sort by date added
Sort Alphabetically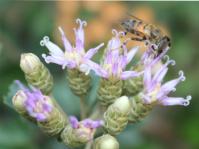 Common names:
mountain bitter-tea, mountain vernonia (Eng.); uhlunguhlungu (Zulu)
... Munster and Anthony R. Magee Compton Herbarium July 2017 Gymnanthemum corymbosum is a resprouting, evergreen shrub, ... by fluffy bristles that facilitate dispersal by wind. Gymnanthemum corymbosum is a southern African near-endemic. ... from a woody rootstock after fire. The flowers of Gymnanthemum corymbosum are frequented by bees, butterflies ...
03 / 07 / 2017 | Anthony R. Magee | Compton Herbarium
Read More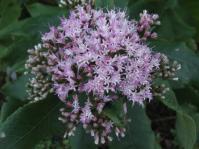 Common names:
blue bitter-tea, eared bitter-tea, blue vernonia, eared vernonia, poison tree-vernonia, wild lilac (Eng.); bloubittertee, bosbloutee (Afr.); uhluhlung
... heads into bundles of attractive, fluffy white seed heads. Gymnanthemum myrianthum occurs naturally in South Africa, ... Kenya, usually as a secondary pioneer in disturbed ground. Gymnanthemum myrianthum flower heads are visited by ... The alien invasive Solanum mauritianum (Bugweed) resembles Gymnanthemum myrianthum , as both are tall, softwood shrubs ...
05 / 12 / 2016 | Alice Notten | Kirstenbosch NBG
Read More