Plants of the Week Advanced Search
Search results for "Haemanthus" (displaying 8 of 8 on page 1)
Refine your search
Sort by date added
Sort Alphabetically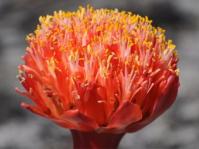 Common names:
smooth bloodlily, April fool (Eng.); veldskoenblaar, brandlelie (Afr.)
... for the amazing pictures that illustrate this article.   Haemanthus sanguineus is a winter-growing, deciduous bulb and ... flat on the ground, just above the surface of the soil. Haemanthus sanguineus has a rounded, pink to red ... flowers, holding a few reddish-brown, egg-shaped seeds. Haemanthus sanguineus is often mistaken for H. coccineus , ...
06 / 09 / 2021 | Ricardo Riddles | Karoo Desert NBG
Read More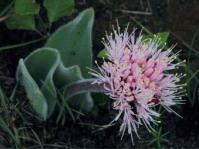 Common names:
Rabbit's ears (Eng.); bobbejaanoor, velskoenblaar (Afr.); tsebe ea phofu, sekitla (Sesotho)
... the images and Alex March for propagation information. Haemanthus humilis subsp . hirsutus is a deciduous, perennial ... to those of subsp. hirsutus which are well exserted. Haemanthus humilis subsp . hirsutus is not endemic to South ... Free State and the Eastern Cape. Most species in the genus Haemanthus occur in the arid Namaqualand, in the northwestern ...
07 / 12 / 2020 | Ndiyafhi Muthuhadini | Walter Sisulu NBG
Read More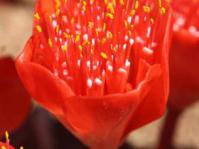 Common names:
crispy-leaved paintbrush lily
... Marianne le Roux National Herbarium, Pretoria May 2013 Haemanthus crispus is a small deciduous geophyte. Bulbs up to ... round, 1 to 2 cm in diameter, pale pink (Snijman 1984). Haemanthus crispus is endemic to the Greater Cape Floristic ... (Snijman 1984). Unlike the summer-rainfall species of Haemanthus, which usually flower in spring to summer, H. ...
27 / 05 / 2013 | Anthony R. Magee | Compton Herbarium
Read More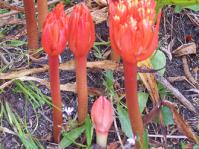 Common names:
channel-leaved haemanthus
... as may also happen in cultivation. It is the only Haemanthus species with fleshy, narrow, channelled leaves with red markings near the base. The channel-leaved haemanthus occurs in a very limited area in swampy ... ash and plenty of moisture and sunlight needed for growth. Haemanthus As this is a difficult species to grow, and as it ...
28 / 11 / 2011 | Jane Forrester | Harold Porter NBG
Read More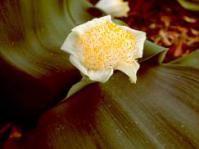 ... Duncan Kirstenbosch National Botanical Garden May 2007 Haemanthus deformis is an evergreen bulbous plant with thick ... dark orange berry containing a few hard, oblong seeds. Haemanthus deformis has a limited distribution in the ... and dies over a period of several months. The flowers of Haemanthus deformis are probably pollinated by honey bees. ...
07 / 05 / 2007 | Graham Duncan | Kirstenbosch NBG
Read More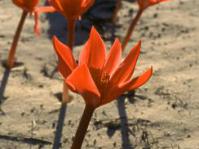 Common names:
paintbrush, powderpuff (Eng.); poeierkwas, velskoenblaar (Afr.)
... Photographs: Colin Paterson-Jones Fernwood, Cape Town Most Haemanthus are deciduous, but just three species ( H. ... in H. dasyphyllus , H. pubescens and H. unifoliatus . Haemanthus flowers appear in shades of red to pink or rarely ... basic chromosome number for the genus is x = 8. All 22  Haemanthus  species occur in southern Africa . Fifteen ...
15 / 08 / 2005 | D Snijman | Kirstenbosch NBG
Read More
Common names:
March flower, April fool, blood flower, paintbrush lily, powderpuff lily, king-of-Candia, pincushion (Eng.); bergajuin, bloedblom, rooikwas, bobbejaan
... shelter of shrubs and bushes. Like many other amaryllids, Haemanthus coccineus has adapted to the dry period of the ... being lost at any one time, reducing stress on the plants. Haemanthus Sow Haemanthus seeds in deep seed trays as soon as possible after ...
17 / 11 / 2003 | Jane Forrester | Harold Porter NBG
Read More
Common names:
white paint brush (Eng.); witpoeierkwas (Afr.); umathunga (Xho.); uzaneke (Zul)
... Garden with additions by Yvonne Reynolds June 2002 Haemanthus albiflos is a very variable plant growing up to ... or red fleshy berry producing a distinctive musty odour. Haemanthus albiflos has a wide, mainly coastal distribution ... to the northern parts of KwaZulu-Natal. Unlike most other Haemanthus species, which prefer full sun, H.albiflos almost ...
10 / 06 / 2002 | Graham Duncan | Kirstenbosch NBG
Read More