Plants of the Week Advanced Search
Search results for "Halleria" (displaying 2 of 2 on page 1)
Refine your search
Sort by date added
Sort Alphabetically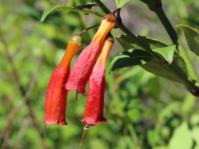 Common names:
rock tree-fuchsia, bush honeysuckle, wild fuschia (Eng.); kinderbessie, bergnotsung, klipnotsung (Afr.)
... submerged in the jelly-like flesh of the fruit. The genus Halleria is widespread, occurring across Yemen, Madagascar, ... Africa; Ethiopia to the Cape Peninsula; also in Angola. Halleria elliptica occurs only in South Africa where it is ... species in southern Africa, the other two species being Halleria lucida and H. ovata . Rich in nectar, it attracts ...
04 / 07 / 2016 | Cherise Viljoen | Kirstenbosch NBG
Read More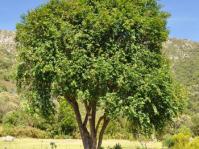 Common names:
tree fuchsia, white olive (Eng.), notsung, witolienhout, witolyfhout (Afr.), umbinza (isiXhosa), indomela, umbinza (isiZulu), lebetsa (Sesotho), murev
... small black flakes in the jelly-like flesh of the fruit. Halleria lucida is found in coastal and karroid scrub, deep ... the seeds that are in the jelly-like flesh of the fruits. Halleria Halleria lucida is tough and easy to grow, and thrives under ...
28 / 01 / 2002 | Giles Mbambezeli | Kirstenbosch NBG
Read More