Plants of the Week Advanced Search
Search results for "Haworthiopsis" (displaying 2 of 2 on page 1)
Refine your search
Sort by date added
Sort Alphabetically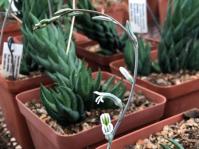 ... Sisulu National Botanical Garden April 2019 Haworthiopsis coarctata has long stems packed with robust, succulent leaves, ... and the lower inner tepals are revolute . Haworthiopsis coarctata may be confused with H. reinwardtii , both having ...
29 / 04 / 2019 | Katlego Selemela | Walter Sisulu NBG
Read More
... Sean D. Gildenhuys Gariep Plants October 2018 Haworthiopsis is a genus of dwarf, succulent plants, that was previously ... to the previously recognized subgenera. The name Haworthiopsis alludes to the similar appearance of these plants to other ...
08 / 10 / 2018 | Ronell R. Klopper | National Herbarium Pretoria
Read More