Plants of the Week Advanced Search
Search results for "Haworthiopsis" (displaying 2 of 2 on page 1)
Refine your search
Sort by date added
Sort Alphabetically
... Sean D. Gildenhuys Gariep Plants October 2018 Haworthiopsis is a genus of dwarf, succulent plants, that was previously ... to the previously recognized subgenera. The name Haworthiopsis alludes to the similar appearance of these plants to other ...
08 / 10 / 2018 | Ronell R. Klopper | National Herbarium Pretoria
Read More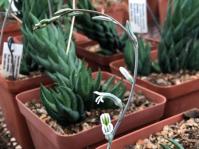 ... Sisulu National Botanical Garden April 2019 Haworthiopsis coarctata has long stems packed with robust, succulent leaves, ... and the lower inner tepals are revolute . Haworthiopsis coarctata may be confused with H. reinwardtii , both having ...
29 / 04 / 2019 | Katlego Selemela | Walter Sisulu NBG
Read More