Plants of the Week Advanced Search
Search results for "Hibiscus" (displaying 4 of 4 on page 1)
Refine your search
Sort by date added
Sort Alphabetically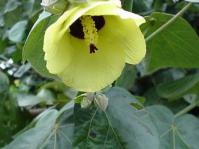 Common names:
wild cotton tree, coast hibiscus, lagoon hibiscus, tree hibiscus (Eng.); wildekatoenboom, kusvuurblom (Afr.)
... and coastal areas along rivers and lagoons. Hibiscus In South Africa the best known members of the cotton family are ... the colourful and popular garden shrubs of the genus Hibiscus . Species of the genus may be grown from seed, which is best sown in ...
22 / 04 / 2013 | Nonkululo Phephu | National Herbarium Pretoria
Read More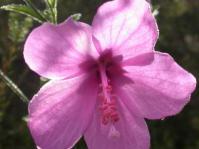 Common names:
pink mallow, forest pink hibiscus (Eng.); wildestokroos, pienk hibiskus (Afr.); indola ebomvu (Zulu)
... Botanical Garden July 2010   Hibiscus pedunculatus is a small, dainty, erect, shrubby perennial that grows ... (family Hesperiidae) are known to feed and breed on various Hibiscus species. Hibiscus Hibiscus pedunculatus  is an ...
12 / 07 / 2010 | Cherise Viljoen | Kirstenbosch NBG
Read More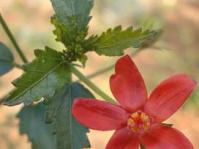 ... Pretoria National Botanical Garden July 2009 Hibiscus praeteritus is a fast-growing, slender shrub, 0.6-2.0 x 1 m. The ... with a creamy-white, cottony floss. Hibiscus praeteritus is a very widespread species found in Limpopo and ...
20 / 07 / 2009 | Roger Oliver | Pretoria NBG
Read More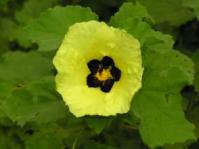 Common names:
hibiscus, sun hibiscus, lemon-yellow rosemallow (Eng.); wildestokroos (Afr.)
... National Botanical Garden February 2008 Hibiscus calyphyllus is a dense, perennial, rounded shrub; up to 3 m high; ... January to April. The natural habitat of Hibiscus calyphyllus is open bush, thickets and forests, often also found ...
25 / 02 / 2008 | Lou-nita LeRoux | Lowveld NBG
Read More