Plants of the Week Advanced Search
Search results for "Hilliardiella" (displaying 3 of 3 on page 1)
Refine your search
Sort by date added
Sort Alphabetically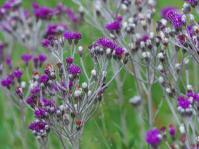 Common names:
bicoloured-leaved vernonia (Eng.); groenamarabossie (Afr.); Ihlambihloshane (Zulu)
... September 2009   The bicoloured-leaved Hilliardiella oligocephala   is an erect, often tufted herbaceous perennial ... tips. It flowers from August to December. Hilliardiella oligocephala is widely distributed in South Africa, it ...
14 / 09 / 2009 | N Mankazana | Walter Sisulu NBG
Read More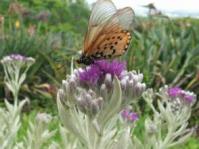 Common names:
silver vernonia (E), ihlambihloshana, isibhaha sasenkangala, umlahlankosi-omhlophe, ileleva (Z)
... and have a pappus of silver-white hairs.   Hilliardiella aristata  is seen growing in clumps, sometimes in colonies, ... Butterflies, beetles and bees are seen visiting Hilliardiella aristata  flowers at Kirstenbosch. The feather light seeds ...
12 / 12 / 2005 | Alice Notten | Kirstenbosch NBG
Read More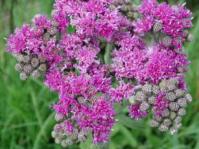 Common names:
Quilted-leaved Vernonia (E), Wildesonsoekertjie (A), ikhambi lenyongo (Z)
... of hairs which assists in wind distribution. Hilliardiella This species grows easily from both cuttings and seed. Once ... was revised ans some species removed to the new genus Hilliardiella .  The name Vernonia is after William Vernon, an English ...
13 / 01 / 2003 | Isabel Johnson | KwaZulu-Natal NBG
Read More