Plants of the Week Advanced Search
Search results for "Hoodia" (displaying 2 of 2 on page 1)
Refine your search
Sort by date added
Sort Alphabetically
Common names:
yellow-flowered ghaap (Eng.); soetghaap (Afr.)
... Herbarium, Pretoria February 2016   Hoodia flava is a compact, leafless succulent, with thick cylindrical stems ... 75–180 mm long, with numerous seeds. Hoodia flava occurs in the arid regions of the Western and Northern Cape ...
01 / 02 / 2016 | Lerato Hoveka | National Herbarium Pretoria
Read More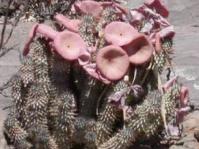 Common names:
bitter ghaap (Eng.); bitterghaap, muishondghaap, wolweghaap, bobbejaanghaap, bergghaap, bokhorings (Afr.); khobab (Khoi)
... Desert National Botanical Gardens July 2005 Hoodia gordonii is a spiny succulent. In the early stages only one stem is ... smell (smell similar to rotten meat). In some ways the Hoodia flowers resemble a petunia flower. Flowers vary in colour from pale ...
18 / 07 / 2005 | Ian Oliver | Karoo Desert NBG
Read More