Plants of the Week Advanced Search
Search results for "Hoodia" (displaying 2 of 2 on page 1)
Refine your search
Sort by date added
Sort Alphabetically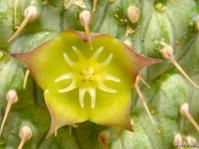 Common names:
yellow-flowered ghaap (Eng.); soetghaap (Afr.)
... Hoveka National Herbarium, Pretoria February 2016   Hoodia flava is a compact, leafless succulent, with thick ... paired follicles, 75–180 mm long, with numerous seeds. Hoodia flava occurs in the arid regions of the Western and ... grow in small bushes and rocky outcrops. The flowers of Hoodia flava produce a strong scent of rotting meat that ...
01 / 02 / 2016 | Lerato Hoveka | National Herbarium Pretoria
Read More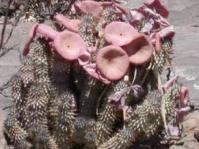 Common names:
bitter ghaap (Eng.); bitterghaap, muishondghaap, wolweghaap, bobbejaanghaap, bergghaap, bokhorings (Afr.); khobab (Khoi)
... Oliver Karoo Desert National Botanical Gardens July 2005 Hoodia gordonii is a spiny succulent. In the early stages ... smell (smell similar to rotten meat). In some ways the Hoodia flowers resemble a petunia flower. Flowers vary in ... goat horns hence the Afrikaans common name of bokhorings . Hoodia gordonii has a very wide distribution. It occurs in ...
18 / 07 / 2005 | Ian Oliver | Karoo Desert NBG
Read More