Plants of the Week Advanced Search
Search results for "Hypoestes" (displaying 2 of 2 on page 1)
Refine your search
Sort by date added
Sort Alphabetically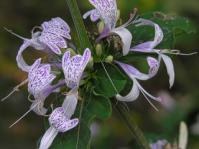 Common names:
ribbon bush (Eng.); seeroogblommetjie (Afr.); uhladlwana olukhulu, uhlonyane, uhlalwane (Zulu)
... Botanical Garden March 2010   Hypoestes aristata is a fast-growing shrub that grows up to 1.5 m high. It ... Laniarius ferrugineus ), barbets, robins and thrushes. Hypoestes The ribbon bush can be propagated from both seeds and cuttings. ...
29 / 03 / 2010 | Patrick Mtsweni | Lowveld NBG
Read More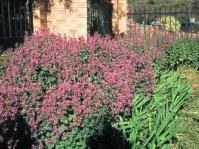 Common names:
ribbon bush (E) lintbos (A) uhlonyane (Z)
... margins as well as in woodland and thicket bush clumps. Hypoestes Hypoestes is easily propagated from both seed and cuttings. Semi-hardwood or ...
02 / 07 / 2001 | Andrew Hankey | Walter Sisulu NBG
Read More