Plants of the Week Advanced Search
Search results for "Hypoestes" (displaying 2 of 2 on page 1)
Refine your search
Sort by date added
Sort Alphabetically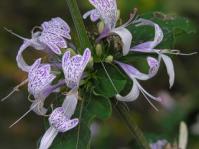 Common names:
ribbon bush (Eng.); seeroogblommetjie (Afr.); uhladlwana olukhulu, uhlonyane, uhlalwane (Zulu)
... Mtsweni Lowveld National Botanical Garden March 2010   Hypoestes aristata is a fast-growing shrub that grows up to ... ( Laniarius ferrugineus ), barbets, robins and thrushes. Hypoestes The ribbon bush can be propagated from both seeds ... lilac pink flowers is an excellent garden subject. Hypoestes aristata (Vahl) Sol. ex Roem. & Schult. Hypoestes ...
29 / 03 / 2010 | Patrick Mtsweni | Lowveld NBG
Read More
Common names:
ribbon bush (E) lintbos (A) uhlonyane (Z)
... margins as well as in woodland and thicket bush clumps. Hypoestes Hypoestes is easily propagated from both seed and cuttings. ... until they are strong enough to be transplanted. The name Hypoestes refers to the calyx which is covered by the bracts. ...
02 / 07 / 2001 | Andrew Hankey | Walter Sisulu NBG
Read More