Plants of the Week Advanced Search
Search results for "Indigofera" (displaying 7 of 7 on page 1)
Refine your search
Sort by date added
Sort Alphabetically
Common names:
coiled-pod indigofera (Eng.); krulboontjie, steekboontjie (Afr.); mutahala (Tshivenda)
... Images by Troos van der Merwe, S.P. Bester and SAplants. Indigofera circinnata is a perennial subshrub that usually ... drier parts of the country; the plant is drought tolerant. Indigofera circinnata exhibits a versatile habitat range, ... clayey soils, and can tolerate a wide range of pH levels. Indigofera circinnata is often found growing in areas with ...
22 / 05 / 2023 | Tambudzani Caroline Machaba | Thohoyandou NBG
Read More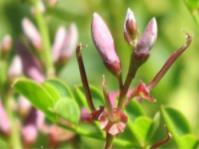 Common names:
Langeberg indigo (Eng.); Langebergseverfbos (Afr.)
... Kirstenbosch National Botanical Garden May 2017 Indigofera langebergensis is a semi-deciduous or evergreen, ... fire. Resprouters are typically multi-stemmed at the base. Indigofera For most members of the Fabaceae, propagation by ... embankment in the Arboretum and in the Mathews Rockery. Indigofera is a large genus of flowering plants and has over ...
15 / 05 / 2017 | Sisanda Alakhe Velembo-Mhlauli | Kirstenbosch NBG
Read More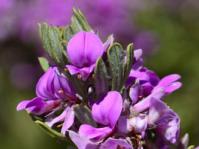 Common names:
fan-leaf indigofera
... and Sally Adam, from their observations posted on iSpot   Indigofera flabellata is a dwarf shrub, 0.3–1.8 m tall, ... along the twigs in between the leaves, and like most other Indigofera species, flowering occurs in winter, from April to ... a moderate growth and has a life-span of more than a year. Indigofera flabellata is endemic to South Africa, and grows ...
03 / 10 / 2016 | Tandiwe Nkonki | National Herbarium Pretoria
Read More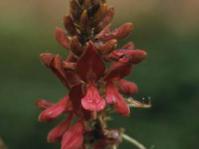 Common names:
Red Indigo, Venda Indigo (Eng.); Rooiverfbos, Venda-verfbos (Afr.); Umhlonishwa (isiZulu)
... hang 'dripping' from the plant from May to October. Indigofera lyalli subsp. lyalli is found in the Soutpansberg ... ( Lepidochrysops niobe ) breed on members of the genus. Indigofera Indigofera lyalli subsp. lyalli is dainty and showy when in ...
07 / 07 / 2014 | Sisanda Alakhe Velembo-Mhlauli | Kirstenbosch NBG
Read More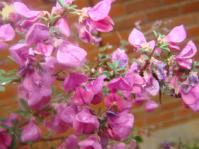 Common names:
indigo (Eng.); doringertjie (Afr.); sefea-maeba, mpepa (South Sotho) (Synonyms: Indigofera spinescens E.Mey.; Indigofera dealbata Harv.; Indigofera he
... Kessler Free State National Botanical Garden July 2012   Indigofera nigromontana is a perennial, woody shrub of ... seed pods are small, about 10-20 mm long and very narrow. Indigofera nigromontana is widespread across the Northern ... beyond the South African borders. Early collections of Indigofera nigromontana at Free State National Botanical ...
09 / 07 / 2012 | L Kessler | Free State NBG
Read More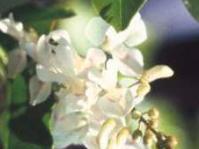 Common names:
forest indigo (Eng.); bos-verfbos (Afr.); umsitshane (IsiXhosa); insiphane encane (IsiZulu)
... open along the seams, spiralling as they dry out. Indigofera natalensis is found naturally in dense understorey ... and KwaZulu-Natal (Zululand). Butterflies are attracted to Indigofera as several species breed on members of this genus. Indigofera This very dainty and delicate shrub or small tree ...
24 / 04 / 2006 | Cherise Viljoen | Kirstenbosch NBG
Read More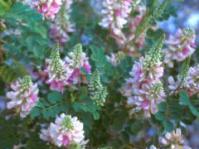 Common names:
river indigo, showy indigo (Eng.), rivierverfbos, pronkverfbos (Afr.), umsipane (Xhosa), umnukambiba, isiphungo (Zulu)
... Garden January 2001 updated by Yvonne Reynolds, 2008 Indigofera jucunda is a graceful shrub or small tree, 2-4 m ... pods with 8 to 10 seeds each, occur from May to July. Indigofera jucunda occurs naturally in riverine forest or ... Blue, Lepidochrysopsniobe , breed on indigoferas. Indigofera Indigofera jucunda is not a striking plant, but it ...
19 / 02 / 2001 | Cherise Viljoen | Kirstenbosch NBG
Read More