Plants of the Week Advanced Search
Search results for "Ipomoea" (displaying 4 of 4 on page 1)
Refine your search
Sort by date added
Sort Alphabetically
Common names:
beach morning glory, goat's foot (Eng.); strandpatat (Afr.)
... Photos courtesy of Tony Rebelo Ipomoea pes-caprae subsp. brasiliensis is a slender, creeping vine, with ... produces buoyant seeds that are dispersed by water. Ipomoea Ipomoea pes-caprae subsp. brasiliensis is not a plant that ...
06 / 03 / 2017 | Lerato Hoveka | National Herbarium Pretoria
Read More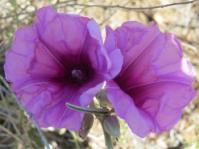 Common names:
Christmas flower (Eng.); krismisblom (Afr.)
... Notten, Kirstenbosch NBG February 2019 Ipomoea oenotheroides is a much-branched shrublet, up to 1 m high. Silvery ... containing 1–3 seeds, about 9 mm long. Ipomoea oenotheroides is endemic to southern Africa. It grows in grassland, ...
11 / 02 / 2019 | Lufuno Nenungwi | Free State NBG
Read More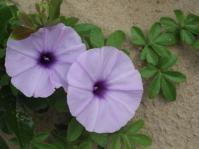 Common names:
coast morning glory, five-fingered morning glory, Cairo morning glory, Messina creeper, mile-a-minute, (Eng.); ihlambe, ijalamu, intana, umaholwana (i
... Seed Bank Partnership February 2019   Ipomoea cairica is a vigorous, perennial climber, with a tuberous root that ... It is a fast-growing plant and very aggressive. Ipomoea cairica is indigenous throughout tropical Africa, and from the ...
25 / 02 / 2019 | Sibahle Gumede | Kwelera NBG
Read More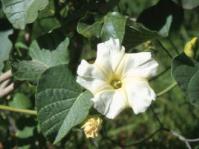 Common names:
wild cotton (E), wildekatoen (A), imibuzana / umangfongo (Z)
... to release seeds covered in fluffy "cottonwool". Ipomoea albivenia grows naturally on rocky outcrops and in open woodland from ... and the Northern Province into Mozambique and Zimbabwe. Ipomoea Ipomoea albivenia  with its showy flowers and fluffy seeds ...
22 / 01 / 2001 | Sharon Turner | Walter Sisulu NBG
Read More