Plants of the Week Advanced Search
Search results for "Jamesbrittenia" (displaying 5 of 5 on page 1)
Refine your search
Sort by date added
Sort Alphabetically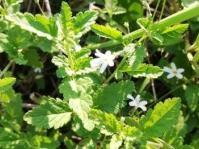 Common names:
kerriebos (Afr); usikisiki lwehlathi (Zul.)
... National Botanical Garden April 2019   Jamesbrittenia kraussiana is a slender perennial herb, growing up to 150 to ... flowering abundantly throughput the year. Jamesbrittenia kraussiana is found in thicket grassland and in forest ...
15 / 04 / 2019 | Mpendulo Gabayi | Kirstenbosch NBG
Read More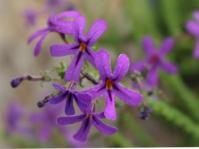 Common names:
purple phlox
... sporadically throughout the year (January to December). Jamesbrittenia microphylla is relatively fast growing and not long lived. ... the sometimes harsh and desiccating coastal conditions. Jamesbrittenia Purple phlox is easily propagated from stem cuttings taken ...
08 / 01 / 2018 | Phakamani Xaba | Kirstenbosch NBG
Read More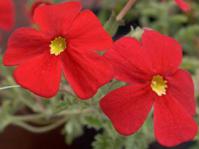 Common names:
crimson phlox
... National Botanical Garden February 2010 Jamesbrittenia bergae has a semi-upright mounding herbaceous habit that ... is an intense crimson red and is unique in the genus Jamesbrittenia in that it has a luminous quality, only seldom seen in the ...
22 / 02 / 2010 | Adam Harrower | Kirstenbosch NBG
Read More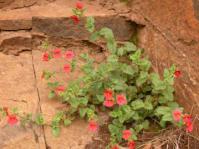 Common names:
There are no recorded common names for this species; other Jamesbrittenia species are sometimes known as verfblommetjies (little paint-flowers).
... Kirstenbosch NBG October 2007   Jamesbrittenia breviflora is a leafy perennial herb. The stems are up to 600 ... and contained in small capsules less than 5 mm long. Jamesbrittenia breviflora is easily distinguished from other species in the ...
08 / 10 / 2007 | Nicola Bergh | Compton Herbarium
Read More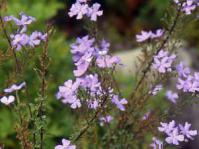 Common names:
Wild phlox (= Sutera grandiflora)
... butterflies to the garden. Jamesbrittenia grandiflora is a woody perennial with long, waving stems that ... be found in grasslands, bush clumps and forest margins. Jamesbrittenia The wild phlox may be grown almost anywhere in southern ...
22 / 07 / 2002 | Mhlonishwa D Dlamini | Walter Sisulu NBG
Read More