Plants of the Week Advanced Search
Search results for "Jasminum" (displaying 2 of 2 on page 1)
Refine your search
Sort by date added
Sort Alphabetically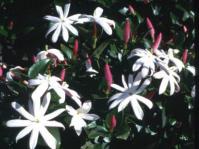 Common names:
starry wild jasmine (Eng.); sterretjies-jasmyn (Afr.); imfohlafohlane (Zulu)
... Moth, Death's Head Hawk Moth and King Monkey Moth feed on Jasminum species. Hawk moths pollinate the flowers. Jasminum Delightful as a shrub, or as a climber trained onto a trellis or ...
23 / 02 / 2004 | Cherise Viljoen | Kirstenbosch NBG
Read More
Common names:
wild jasmine (Eng.); wildejasmyn (Afr.); umalalala (Zulu)
... National Botanical Garden January 2017 Jasminum angulare is a scrambling and climbing shrub that can reach up to ... is a spherical berry, about 7 mm in diameter. Jasminum angulare occurs in coastal and inland bush from Ladismith in the ...
23 / 01 / 2017 | Alice Notten | Kirstenbosch NBG
Read More