Plants of the Week Advanced Search
Search results for "Kirkia" (displaying 2 of 2 on page 1)
Refine your search
Sort by date added
Sort Alphabetically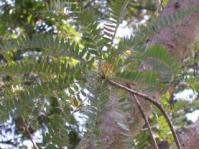 Common names:
mountain kirkia, wild pepper tree, mountain seringa (Eng.); bergsering, wildepeperboom (Afr.); Modumela (Northern Sotho)
... the fruit capsule splits open, revealing 4 valves. Kirkia wilmsii can be found on granite and dolomitic soils in dry bushveld, ... seem to be the exception, favouring the foliage. Kirkia This deciduous tree grows at medium tempo, preferring ...
10 / 05 / 2004 | Lou-nita LeRoux | Lowveld NBG
Read More
Common names:
white seringa (Eng.); witsering (Afr.); mvumayila (Tsonga); modumela (Tswana ); mubvumala (Venda)
... The apex is narrowly tapering to a long point. Kirkia acuminata flowers from October to December with small greenish cream ... seed. The wood is yellowish brown, light and soft. Kirkia acuminata extends from Gauteng, Botswana, Namibia, and to the north in ...
03 / 05 / 2004 | Giles Mbambezeli | Kirstenbosch NBG
Read More