Plants of the Week Advanced Search
Search results for "Kniphofia" (displaying 7 of 7 on page 1)
Refine your search
Sort by date added
Sort Alphabetically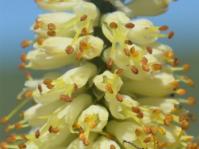 Common names:
highlands poker
... Pretoria National Botanical Garden May 2018   Kniphofia acraea is a geophyte with underground rhizomes, that grows up to ... April to early May, releasing very small seeds. Kniphofia acraea is only known from 2 areas in the Eastern Cape Province, ...
28 / 05 / 2018 | Ntuthuko Mabuya | Pretoria NBG
Read More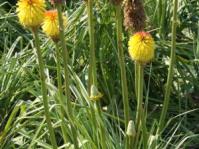 Common names:
winter poker, Rooper's red-hot poker (Eng.); lentevuurpyl (Afr.); icacane (isiZulu)
... National Botanical Garden December 2014 Kniphofia rooperi is a robust, evergreen perennial, which grows in groups up ... flowers attract insects such as bees and butterflies. Kniphofia This evergreen, fast-growing perennial does best in sandy soil ...
01 / 12 / 2014 | Lou-nita LeRoux | Lowveld NBG
Read More
Common names:
graceful/slender red-hot poker
... Botanical Garden November 2004 The genus Kniphofia belongs to the lily family and its common name is derived from the ... possibly sunbirds, which pollinate the flowers. Kniphofia Kniphofia gracilis is easily grown from seed and will flower ...
08 / 11 / 2004 | B Tarr | Kwazulu-Natal NBG
Read More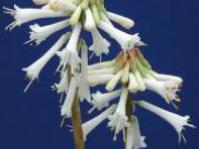 ... flies and bees have been seen collecting pollen. Kniphofia Although this species is so rare, a few plants and some seed ... available for garden cultivation, a very close relative Kniphofia pauciflora , which is now believed to be extinct in the wild, has ...
08 / 09 / 2003 | Isabel Johnson | Kwazulu-Natal NBG
Read More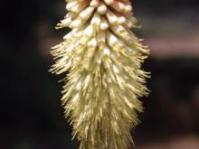 Common names:
torch lily (Eng.); vuurpyl (Afr.)
... of Gauteng, North-West, Limpopo and Mpumalanga. Kniphofia ensifolia is found growing naturally along watercourses usually in ... they in turn attract insectivorous birds to the garden. Kniphofia This is an old garden plant. Taylor (1985) writes that Francis ...
16 / 12 / 2002 | Andrew Hankey | Walter Sisulu NBG
Read More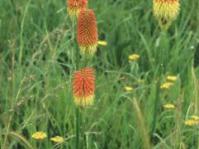 Common names:
common marsh poker (Eng.); vuurpyl (Afr.); Icacane, Umathunga (Zulu)
... sunbirds and sugarbirds. Certain insects also visit it. Kniphofia K. linearifolia grows well in rich soil in an open, sunny ... might struggle a bit, but can establish themselves. Kniphofia linearifolia makes a brilliant display in a garden and the flowers ...
09 / 12 / 2002 | Mhlonishwa D Dlamini | Walter Sisulu NBG
Read More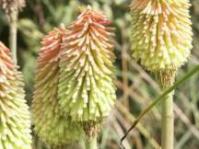 Common names:
red-hot poker or torch lily (English), vuurpyl (Afrikaans)
... perennials growing from rhizomes. Most species of Kniphofia are evergreen while a few are deciduous and sprout again in the ... in shades of red, orange, yellow and cream. Kniphofia form large clumps of arching leaves which are long, narrow and ...
05 / 08 / 2002 | Marc Stern | Walter Sisulu NBG
Read More