Plants of the Week Advanced Search
Search results for "Knowltonia" (displaying 2 of 2 on page 1)
Refine your search
Sort by date added
Sort Alphabetically
Common names:
blisterleaf (Eng.); brandblaar, katjiedrieblaar, tandpynblaar, peperwortel (Afr.)
... Walt Kirstenbosch NBG February 2008   Knowltonia vesicatoria is a perennial herb with a tuft of leathery, dark ... plants producing only a few new leaves a year. Knowltonia vesicatoria occurs widespread within the fynbos of the Cape, from ...
04 / 02 / 2008 | Liesl Van der Walt | Kirstenbosch NBG
Read More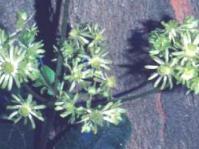 Common names:
blistering leaves (Eng.); brandblare, katjiedrieblaar (Afr.)
... and low rainfall due to its wide distribution range. Knowltonia The unusual green flowers make this plant a feature in any ... to growing and flowering in the shade or under trees as Knowltonia . They do not grow tall, so use them in front of a bed or around ...
01 / 09 / 2003 | Cherise Viljoen | Kirstenbosch NBG
Read More