Plants of the Week Advanced Search
Search results for "Kumara" (displaying 2 of 2 on page 1)
Refine your search
Sort by date added
Sort Alphabetically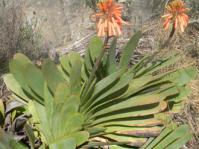 Common names:
haemanthus-leaf aloe
... November 2011 Updated July 2016     Kumara haemanthifolia is a robust plant that rarely grows singly and ... the plants look somewhat like a sister species, Kumara plicatilis , that also occurs in the fynbos mountains. The latter, ...
14 / 11 / 2011 | Werner Voigt | Karoo Desert NBG
Read More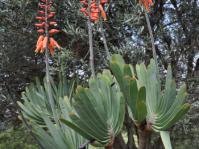 Common names:
fan aloe, Franschhoek aloe (Eng.); waaieraalwyn, Franschoekaalwyn, bergaalwyn, tongaalwyn (Afr.)
... and spring, from August to October. Kumara plicatilis is confined to the Western Cape, where its limited ... mountains of Franschhoek to Elandskloof in the north. Kumara plicatilis grows on steep, rocky slopes in well-drained acid, sandy ...
01 / 01 / 2003 | Berenice Carolus | Harold Porter NBG
Read More