Plants of the Week Advanced Search
Search results for "Lachnospermum" (displaying 2 of 2 on page 1)
Refine your search
Sort by date added
Sort Alphabetically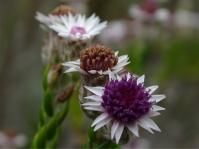 Common names:
purple-centre everlasting (Eng.); blombossie (Afr.)
... Porter National Botanical Garden July 2018 Lachnospermum imbricatum is a shrublet growing up to 500 mm high, with ... produced in autumn and winter, from May to June. Lachnospermum imbricatum is endemic to the Western Cape and is found growing ...
02 / 07 / 2018 | Karen Wall | Harold Porter NBG
Read More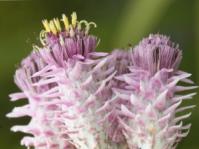 Common names:
rooiblombossie (Afr.)
... Kirstenbosch Research Centre March 2016 Lachnospermum umbellatum is a small, stiff shrublet with numerous upright ... especially in the season following a fire. Lachnospermum is not well known and there is little information available on ...
14 / 03 / 2016 | Nicola Bergh | Compton Herbarium
Read More