Plants of the Week Advanced Search
Search results for "Lannea" (displaying 3 of 3 on page 1)
Refine your search
Sort by date added
Sort Alphabetically
Common names:
grape lannea, wild grape (Eng.); wildedruif (Afr.); umgabunkhomo (isiZulu); mutsambatsi (siSwati); phepo (Setswana).
... for the use of her images to illustrate this article. Lannea edulis var. edulis is a small, deciduous shrub that ... the leaves appear. They are purple to black when ripe. Lannea edulis var . edulis is not endemic to South Africa; it ... woodland, and bushveld and is conspicuous on burnt ground. Lannea edulis var . edulis bears red, fleshy berries that are ...
01 / 07 / 2019 | Fergy Nkadimeng | Millennium Seed Bank Partnership
Read More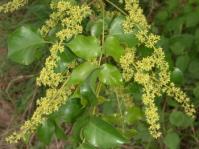 Common names:
false-marula (Eng.); valsmaroela (Afr.); mmopu (NSo.); umganunkomo (Zul.)
... and about 25 mm long and appears from November to March. Lannea schweinfurthii var. stuhlmannii is related to, and may ... leaflets per leaf and the leaflets have shorter stalks. Lannea schweinfurthii is quite widely spread, from Tanzania ... love to feast on the bark, twigs and roots of this tree. Lannea Propagation is by seed or cuttings. Seeds are best ...
18 / 12 / 2017 | Benjamin Festus | Kirstenbosch NBG
Read More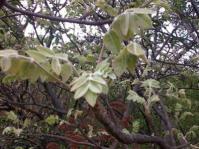 Common names:
dikbas (Afr.); live-long, tree grape (Eng.); morulamopsane, mokgôkgôthwane (Sepedi); muvhumbu (Venda)
... granite rhyolite in sandveld areas, often on rocky ridges. Lannea Lannea discolor is very easy to propagate. According to Lucy ... It can also be grown from cuttings or truncheons. The name Lannea refers to the dense, woolly hairs that cover the young ...
12 / 11 / 2012 | T.T. Masupa | Pretoria NBG
Read More