Plants of the Week Advanced Search
Search results for "Lapeirousia" (displaying 2 of 2 on page 1)
Refine your search
Sort by date added
Sort Alphabetically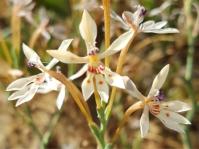 Common names:
sandveld cabong, cabung, chabi (Eng.); pienk koringblom (Afr.); cabong (Namaqua)
... National Botanical Garden February 2019 Lapeirousia anceps is a perennial, cormous geophyte (a plant that propagates ... showing the outline of the seeds it contains. Lapeirousia anceps has the widest distribution ranges of the southern African ...
04 / 02 / 2019 | Shireen Harris | Karoo Desert NBG
Read More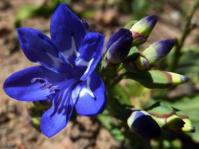 Common names:
blue cabong (Eng.); bloucabong, koringblom, koringblommetjie (Afr.)
Sarah-Leigh Hutchinson Kirstenbosch NBG     Lapeirousia Lapeirousia corymbosa  is now classified as Codonorhiza corymbosa ...
07 / 01 / 2013 | Sarah-Leigh Hutchinson | Kirstenbosch NBG
Read More