Plants of the Week Advanced Search
Search results for "Ledebouria" (displaying 20 of 22 on page 1)
Refine your search
Sort by date added
Sort Alphabetically
Common names:
giant false scilla; giant African hyacinth
... Completely unmarked populations are also known. Ledebouria zebrina is a widespread species over the northern provinces of ... eumela ) as a larval food plant.   Ledebouria This species, along with other  ledebourias , is easily grown ...
25 / 11 / 2013 | Andrew Hankey | Walter Sisulu NBG
Read More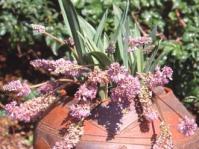 Common names:
ledebouria; common squill
... National Botanical Garden July 2011 The genus Ledebouria is a group of bulbous plants with variously spotted, textured and ... niches which they occupy. Examples of these include: Ledebouria viscosa which has sticky leaves, causing sand grains to adhere to ...
11 / 07 / 2011 | Andrew Hankey | Walter Sisulu NBG
Read More