Plants of the Week Advanced Search
Search results for "Lessertia" (displaying 2 of 2 on page 1)
Refine your search
Sort by date added
Sort Alphabetically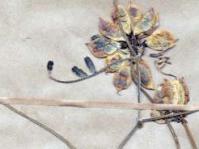 ... October 2004 With updates by Y Reynolds  Dec 2015. Lessertia species are mainly perennials with a few annuals. ... known as Sutherlandia in flower and fruit. In  original Lessertia   species flowers are small and they range from ... form.  Prior to the inclusion of Sutherlandia species , Lessertia DC . consists of about 50 species. The genus is ...
04 / 10 / 2004 | Tandiwe Nkonki | National Herbarium Pretoria
Read More
Common names:
sutherlandia, cancer bush, balloon pea (Eng.); umnwele(Xhosa & Zulu); kankerbos, blaasbossie, blaas-ertjie, eendjies, gansiekeurtjie, klappers, ho
... thanks to Dr John Manning by Yvonne Reynolds.  Dec 2015 Lessertia frutescens  is an attractive, small, soft-wooded ... as it dries well, maintaining its colour and form. Lessertia frutescens occurs naturally throughout the dry ... These species form a bird pollinated group in Lessertia . Sunbirds pollinate the attractive butterfly-like ...
07 / 04 / 2003 | Alice Notten | Kirstenbosch NBG
Read More