Plants of the Week Advanced Search
Search results for "Limonium" (displaying 2 of 2 on page 1)
Refine your search
Sort by date added
Sort Alphabetically
Common names:
Saldanha sea-pink (Eng.); saldanha strandroos (Afr.)
... the plant where they may crystallize or be washed away. Limonium Nothing is known about the cultivation of Saldanha sea-pink, but ... , has escaped along some parts of the West Coast. Limonium capense , along with the other South African species with large, ...
17 / 12 / 2018 | John Manning | Kirstenbosch NBG
Read More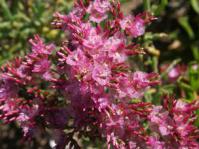 Common names:
sea lavender (Eng.); papierblom, strandroos (Afr.)
... Botanical Garden January 2011   Limonium peregrinum is the largest and most showy of South Africa's sea ... from November till February. The indigenous Limonium peregrinum occurs naturally along the coastal dunes and on maritime ...
17 / 01 / 2011 | N Stoll | Kirstenbosch NBG
Read More