Plants of the Week Advanced Search
Search results for "Lithops" (displaying 3 of 3 on page 1)
Refine your search
Sort by date added
Sort Alphabetically
Common names:
living stones, stone plants (Eng.); beeskloutjies, perdeklou (Afr.)
... Karoo Desert National Botanical Gardens July 2005   Lithops are dwarf, succulent mimicry plants comprising two ... some have speckled lines, are grooved, or even spotted. Lithops plants come in a variety of patterns and colours. ... Flowers are solitary and are borne on a short stem. All lithops are noon-day flowering plants. Basically this means ...
25 / 07 / 2005 | Ian Oliver | Karoo Desert NBG
Read More
Common names:
stone plant (Eng.); beeskloutjie (Afr.)
... Kirstenbosch NBG Adam Harrower Kirstenbosch NBG June 2003 Lithops plants consist of two fused leaves that form one ... yellow flower with a white centre late in the summer. Lithops occurs sporadically throughout all arid parts of the ... however, they absorb water and become fat and turgid. Lithops Lithops plants, contrary to popular belief, are easy ...
16 / 06 / 2003 | Adam Harrower | Kirstenbosch NBG
Read More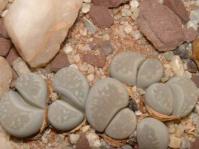 Common names:
Lüderitz Living Stone, Lüderitz Stone Plant, Lüderitz Beeskloutjie
... Kirstenbosch National Botanical Garden March 2002 Lithops optica consists of an oblong obconical almost ... to grey green in colour. There is a reddish colour form, Lithops optica cv . Rubra, with ruby milky pink sides and ... up to 10 bodies. It is possible to estimate the age of a Lithops optica colony by counting the dried-up shells of old ...
01 / 04 / 2002 | Ernst van Jaarsveld | Kirstenbosch NBG
Read More