Plants of the Week Advanced Search
Search results for "Lycium" (displaying 2 of 2 on page 1)
Refine your search
Sort by date added
Sort Alphabetically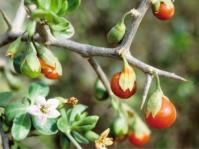 Common names:
Cape box thorn, honey thorn, snake-berry, African box thorn (Eng.); slangbessie, karriedoring, bokdoring (Afr.); ubovu (Xho.)
... then turning orange-red or bright red when mature. Lycium ferocissimum is not endemic to South Africa. It occurs on dry, stony ... that are usually found inside the berries of the plant. Lycium L. ferocissimum flowers sporadically throughout the year and ...
27 / 11 / 2017 | Sisanda Alakhe Velembo-Mhlauli | Kirstenbosch NBG
Read More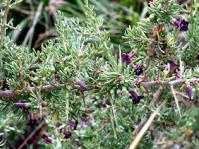 Common names:
kraal honeythorn (Eng.); kraaldoring, kraalkriedoring, slangbessie, bokdoring (Afr.)
... in early summer, between October and November. Lycium afrum is native to the Western Cape Province. It is found mostly on ... are eaten by birds, who also disperse the seeds. Lycium are browsed until the spines in the new growth hardens. They often ...
25 / 04 / 2016 | Sisanda Alakhe Velembo-Mhlauli | Kirstenbosch NBG
Read More