Plants of the Week Advanced Search
Search results for "Metalasia" (displaying 2 of 2 on page 1)
Refine your search
Sort by date added
Sort Alphabetically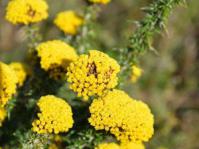 Common names:
golden metalasia, yellow metalasia (Eng.); geelsteekbossie, geelblombos (Afr.)
... for ecological and distribution information and images Metalasia aurea is a densely branched shrub, ranging from ... golden-yellow capitula (flower heads) are quite unique in Metalasia . The attractive flowers appear from April to June and have a yeasty fragrance. Metalasia aurea occurs in grassy fynbos, in quartzitic ...
23 / 03 / 2015 | Anthony Hitchcock | Kirstenbosch NBG
Read More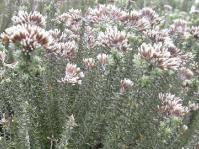 Common names:
coast metalasia, white bristle bush (Eng.); blombos, witsteekbossie, steekbos (Afr.)
... Xaba Harold Porter National Botanical Garden December 2004 Metalasia muricata bush is a greyish, rounded, sturdy shrub, ... not visible as it is obscured by the many dense branches. Metalasia is widespread in the Western Cape, from the coast ... includes forms tolerant to frost, and poor, sandy soils. Metalasia Metalasia can be grown from seed; however, seed ...
13 / 12 / 2004 | Phakamani Xaba | Harold Porter NBG
Read More