Plants of the Week Advanced Search
Search results for "Mimusops" (displaying 3 of 3 on page 1)
Refine your search
Sort by date added
Sort Alphabetically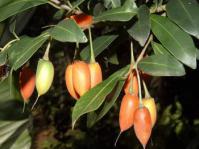 Common names:
red milkwood (Eng.); rooimelkhout (Afr.); amaSethole-ehlathi, umNolwe, umPhumbulu, (isiZulu); umTunzi wehlathi (isiXhosa)
... Herbarium December 2013     Mimusops obovata is a medium to large evergreen tree, up to 20 m tall, with ... Fruiting time is from October to February. Mimusops is a small genus of about 40 species. Approximately 20 species are ...
02 / 12 / 2013 | Sifiso Mnxati | KwaZulu-Natal Herbarium
Read More
Common names:
coast red milkwood (Eng.); kusrooimelkboom, moepel (Afr.); umhayihayi amasethole-abomvu, umthunzi, umnweba waselwandle, umnole, umagayi, umkhakhayi (Z
... National Botanical Garden August 2006 Mimusops caffra is a small to medium-sized tree up to 15 m high. In an ... eat the fruit. Monkeys in particular spread the seed. Mimusops Mimusops caffra is grown from seed. The best time to sow seed ...
28 / 08 / 2006 | Giles Mbambezeli | Kirstenbosch NBG
Read More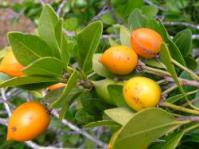 Common names:
Transvaal red milkwood (Eng.); moepel (Afr.); mmupudu (Northern Sotho); umpushane (Zulu); nhlantswa (Tsonga); mubululu (Venda)
... Sisulu National Botanical Garden June 2005 Mimusops zeyheri is potentially a large, evergreen tree with a rounded crown ... carry it some distance for effective seed dispersal. Mimusops The Transvaal red milkwood is easily cultivated and best utilized ...
06 / 06 / 2005 | Andrew Hankey | Walter Sisulu NBG
Read More