Plants of the Week Advanced Search
Search results for "Nemesia" (displaying 5 of 5 on page 1)
Refine your search
Sort by date added
Sort Alphabetically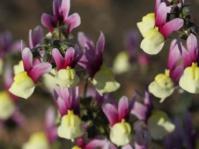 Common names:
fragrant nemesia
... Images : Marinda Koekemoer Nemesia suaveolens has only recently been named and described (Steiner ... notched while the outer corners are rounded. This Nemesia grows in the Northern Cape in the Tanqua Karoo, east of the Cedarberg ...
07 / 01 / 2013 | J Ready | National Herbarium Pretoria
Read More
Common names:
nemesia (Eng.), balsa mienie, leeubekkie, rooileeubekkie (Afr.)
... Oliver Kirstenbosch NBG October 2012   Nemesia strumosa is an annual of up to 40 cm. It occasionally branches from ... Flowering is from September to October. Nemesia strumosa is found on sandy flats from Hopefield to Melkbos, north of ...
08 / 10 / 2012 | Roger Oliver | Kirstenbosch NBG
Read More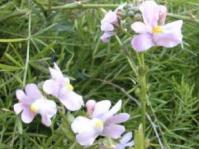 Common names:
Cape snapdragon, mauve nemesia (Eng.) leeubekkie, maagpynblommetjie, witleeubekkie, wildeleeubekkie (Afr.)
... With additions by Yvonne Reynolds July 2002 Nemesia fruticans is a perennial that is used mostly as an annual. It grows ... with bright yellow protuberances in the throat. The mauve nemesia flowers mostly at the beginning of spring (September-October), but the ...
15 / 07 / 2002 | Samson Moeketsi Letsela | Walter Sisulu NBG
Read More
Common names:
white cape snapdragon (Eng.); witleeubekkie (Afr.)
... Porter National Botanical Garden October 2017 Nemesia diffusa is a short-lived perennial herb that grows to a height of ... turn brown as the seeds develop and ripen. Nemesia diffusa occurs from sea level to the lower, south-facing sandstone ...
16 / 10 / 2017 | Karen Wall | Harold Porter NBG
Read More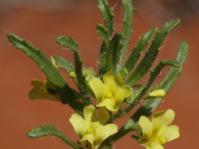 Common names:
None recorded.
... Unlike the relative large flowers of most other Nemesia species, N. arenifera has small flowers, but a single plant ... generation, the rainy season being relatively short. Nemesia Nemesia arenifera is an annual and naturally occurs in areas ...
17 / 08 / 2015 | Stoffel Petrus Pieter Bester | National Herbarium Pretoria
Read More