Plants of the Week Advanced Search
Search results for "Notobubon" (displaying 2 of 2 on page 1)
Refine your search
Sort by date added
Sort Alphabetically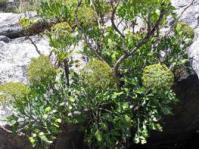 Common names:
blister bush (Eng.); bergseldery, wilde seldery, droëdas (Afr.)
... Magee Compton Herbarium April 2010   Notobubon galbanum is a woody evergreen shrub growing to 2.5 m in height. ... Cape Province of South Africa. The flowers of Notobubon galbanum attract a wide range of insect visitors and the plant is ...
05 / 04 / 2010 | Anthony R. Magee | Compton Herbarium
Read More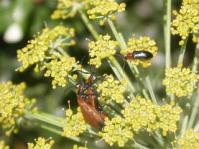 Common names:
bush parsley ( Eng. ); bergseldery (Afr.)
...   is a species which often grows in the same area as  Notobubon capense but has very different looking leaves. Although their ... parsley or celery and not the finely divided leaf of Notobubon capense . Even a light touch on the skin from the blister bush ...
31 / 07 / 2006 | Jane Forrester | Harold Porter NBG
Read More