Plants of the Week Advanced Search
Search results for "Nuxia" (displaying 3 of 3 on page 1)
Refine your search
Sort by date added
Sort Alphabetically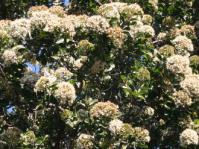 Common names:
common wild elder, brittle wood (Eng.); gewone wildevlier (Afr.); umKhobesza (Xhosa); isiPhofane (Zulu)
... Herbarium, Pretoria February 2011     Nuxia congesta is a quick-growing, evergreen tree or shrub, 2-20 m high. It ... seed. Flowering time is February-November. Nuxia congesta naturally occurs in dry rocky grasslands, bushveld and on the ...
07 / 02 / 2011 | M.S. Mothogoane | National Herbarium Pretoria
Read More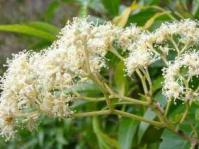 Common names:
forest elder; forest nuxia; wild elder (Eng.); bosvlier; vlier (Afr.); umHlambandlazi, iThambo, ingobese, isanywana, umKhobeza (Zulu); iNgqota, isiKha
... Garden August 2004, updated March 2018 Nuxia floribunda is a small to medium-sized tree, usually 3 m to 10 m tall, ... attack and kill older seedlings (Von Breitenbach 1965). Nuxia N. floribunda can be successfully grown from either seed or ...
16 / 08 / 2004 | Jan-Hakon Burring | Kirstenbosch NBG
Read More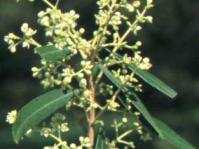 Common names:
water elder, bush nuxia (English); watervlier (Afrikaans); iNkhweza (Zulu)
... The main stem may be fluted. The distribution of  Nuxia oppositifolia   extends from northern KwaZulu-Natal, eastern Mpumalanga ...  It   can also be found in the north of Namibia. Nuxia The water elder is not common in cultivation, but it is useful for ...
04 / 02 / 2002 | Alice Aubrey | Walter Sisulu NBG
Read More