Plants of the Week Advanced Search
Search results for "Ocotea" (displaying 2 of 2 on page 1)
Refine your search
Sort by date added
Sort Alphabetically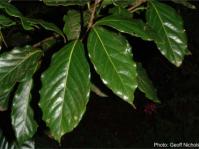 Common names:
northern stinkwood, false stinkwood, bastard stinkwood, mock stinkwood, Transvaal stinkwood (Eng), noordelikestinkhout, vals-stinkhout, basterstinkhou
... when old. Freshly cut bark produces a sweet smell. The Ocotea kenyensis has broad, glossy, leathery leaves which are ... - Jan.), in branched sprays, becoming brown as they age. Ocotea kenyensis fruits are globose berries, up to 27 x 14 ... 2 species of this genus in South Africa. The other one is Ocotea bullata , known as Stinkwood . The difference between ...
06 / 03 / 2023 | Winfred Velephi Ngwenya | Lowveld NBG
Read More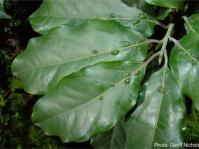 Common names:
stinkwood, black stinkwood, Cape laurel, (Eng), stinkhout, swartstinkhout, laurelhout (Afr), umnukani (Zulu), umhlungulu (Xhosa)
... almost black. It is also finely textured and fairly heavy. Ocotea bullata occurs naturally in most of the high forests ... and the Cape parrot favour the fruits of stinkwood. Ocotea This tree makes a lovely specimen for a large garden ... 'bubble'. The genus name is derived the native name for  Ocotea  in Guiana. The common name stinkwood is derived from ...
06 / 03 / 2006 | Giles Mbambezeli | Kirstenbosch NBG
Read More