Plants of the Week Advanced Search
Search results for "Osteospermum" (displaying 5 of 5 on page 1)
Refine your search
Sort by date added
Sort Alphabetically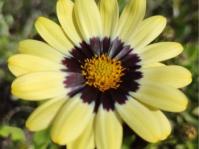 Common names:
sheep bush, sheep boneseed (Eng.); skaapbos, bietou, sagtebietou (Afr.)
... Free State, Northwest, Gauteng, Mpumalanga and Limpopo. Osteospermum scariosum occupies a large range of rainfall ... from September to March. The fruit is dispersed by wind. Osteospermum Cultivation of this plant is easy. Sow seeds in ... the floral display. Propagation is a popular practice with Osteospermum and the closely related genus Dimorphotheca in ...
13 / 11 / 2023 | Khanya Ntondini | Compton Herbarium
Read More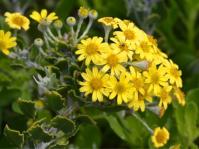 Common names:
grey bietou, grey tick berry (Eng.); grysbietou, fynbietou, vaalsandbietou, vaalbietou, vaalbitou (Afr.)
... Oliver Kirstenbosch National Botanical Garden April 2023 Osteospermum incanum subsp. incanum is a semi-prostrate bush, ... due to over-grazing.   The seed shapes of species of Osteospermum are markedly different due to their method of ... a fleshy purple outer layer for its role in dispersal. Osteospermum No published knowledge is available on seed ...
03 / 04 / 2023 | Roger Oliver | Kirstenbosch NBG
Read More
Common names:
one-eye monster (Eng.); trekkertjie (Afr.)
... up to 30) mm broad, with wavy or toothed margins. Fig. 2. Osteospermum monstrosum , close-up of flowering and fruiting ... in the fruiting head). Fig. 3. Side view of flowerhead of Osteospermum monstrosum , showing involucral bracts (Photo ... Namaqualand region, in particular the dassiepee boneseed, Osteospermum hyoseroides, which shares the very broad ...
11 / 07 / 2022 | Nicola Bergh | Compton Herbarium
Read More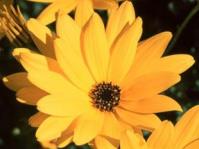 Common names:
stinkskaapbos, skaapbos (Afr.)
... Herbarium, Pretoria January 2009 Updated July 2022   Osteospermum oppositifolium is a dwarf shrub up to 1 m high. ... in late winter and spring, between August and September. Osteospermum oppositifolium is found from Vanrhynsdorp in ... and succulent karoo. Altitude ranges from 75 to 1 000 m. Osteospermum oppositifolium flowers are visited by bees, ...
12 / 01 / 2009 | S Nonkululeko | National Herbarium Pretoria
Read More
Common names:
bietou, boneseed, tickberry, brother berry, bush-tickberry (Eng.) bietou, boetabessie, bosluisbessie, bokbessie, weskusbietou, skilpadkos (Afr.), inku
... Botanical Garden April 2001 updated December 2016   Osteospermum moniliferum is a fast growing semi-succulent, ... after the flowers, are very popular among frugatory birds. Osteospermum moniliferum was introduced to Australia to ... and is a today a serious weed in many parts of Australia. Osteospermum The bietou is easily grown and makes an ...
07 / 05 / 2001 | Ernst van Jaarsveld | Kirstenbosch NBG
Read More