Plants of the Week Advanced Search
Search results for "Osyris" (displaying 2 of 2 on page 1)
Refine your search
Sort by date added
Sort Alphabetically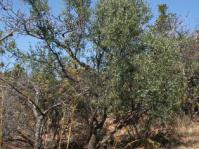 Common names:
rock tannin-bush, transvaal sumach (Eng.); bergbas, rotslooibas (Afr.); intshakasa, ingondotha-mpete (Zulu); umbulunyathi (Zulu/Xhosa); intekeza, utek
... M.S. National Herbarium, Pretoria September 2011   Osyris lanceolata is a large, multi-stemmed, evergreen hardy ... with the persistent calyx. Fruiting time is May-September. Osyris lanceolata occurs naturally on rocky outcrops and ... Grewia flavescens , Burkea africana and Combretum molle . Osyris Osyris lanceolata grows from seeds in the natural ...
26 / 09 / 2011 | M.S. Mothogoane | National Herbarium Pretoria
Read More
Common names:
Cape sumach, coastal tannin bush ( Eng.); wildepruim, wurgbessie, basbessie, kuslooibas (Afr.); mtekaaza, umbalanythi (Xhosa); umbulanyathi (Zulu)
Osyris This plant is now called Colpoon compressum Osyris compressa (P.J.Bergius) A.DC 99 Osyris compressa Colpoon compressum P.J.Bergius ...
29 / 05 / 2006 | | National Herbarium Pretoria
Read More