Plants of the Week Advanced Search
Search results for "Othonna" (displaying 9 of 9 on page 1)
Refine your search
Sort by date added
Sort Alphabetically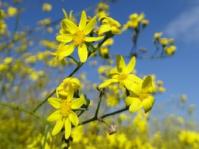 Common names:
Five-tooth baboon cabbage, heavenly daisy (Eng.); bobbejaankool (Afr.)
... Wall Harold Porter National Botanical Garden August 2021 Othonna quinquedentata is an erect, short-lived shrub that ... spring and summer, from October to March, and after fires. Othonna quinquedentata grows in the Western Cape and southern ... many others are reseeders. More than a year after fire, Othonna quinquedentata becomes abundant and is very ...
30 / 08 / 2021 | Karen Wall | Harold Porter NBG
Read More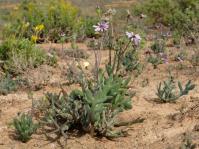 Common names:
sea-rocket othonna (Eng.); bobbejaankool (Afr.)
... for providing the images to illustrate this article.  Othonna cakilefolia is a herbaceous geophyte, up to 500 mm ... leaves. Fig. 2. The trisect to pinnatisect leaves of Othonna cakilefolia. (Photo Adam Harrower) Flower-heads are ... disc florets magenta; involucral bracts 10 or 12. Fig. 3 . Othonna cakilefolia capitula with magenta disc florets and ...
11 / 05 / 2020 | Xichavo Mathebula | Compton Herbarium
Read More
Common names:
trailing othonna (Eng.); bobbejaankoolklimop (Afr.)
... Herbarium Luvo Magoswana Compton Herbarium April 2018 Othonna perfoliata is a tuberous perennial, producing ... 1994; Manning 2007; Manning & Goldblatt 2012). Fruits in Othonna perfoliata are very light and have a tuft of ... suggests that it may be beetle pollinated (Rowley 1994). Othonna Cultivation requirements are not yet known, but ...
09 / 04 / 2018 | Luvo Magoswana | Compton Herbarium
Read More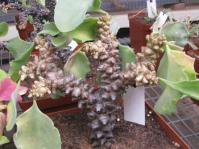 Common names:
Richtersveld othonna
... Desert National Botanical Garden April 2017 Photos of Othonna herrei in habitat by Pieter Van Wyk Othonna herrei , a shrublet up to 300 mm tall, is sparsely ... collectors removing mature individuals, than by grazing. Othonna herrei is adapted to survive drought, by storing ...
03 / 04 / 2017 | Carole Sutty | Karoo Desert NBG
Read More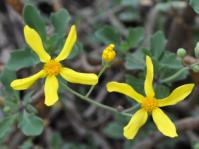 Common names:
three-veined othonna
... Kirstenbosch National Botanical Garden December 2016 Othonna triplinervia is a brittle-stemmed, succulent shrub ... the plant, allowing it to survive droughts and dry spells. Othonna Grow Othonna triplinervia in a sunny position in well-drained ...
26 / 12 / 2016 | Jermaine Christoffels | Kirstenbosch NBG
Read More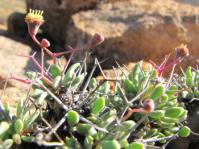 Common names:
spiny othonna (Eng.); doringkers (Afr.)
... & Refilwe Kolokoto Compton Herbarium October 2016 Othonna euphorbioides is a small, deciduous, succulent ... May to late July. Because of the very thorny nature, Othonna euphorbioides is rarely grazed by livestock, but the ... scent of the flowers suggests, as in the sister species Othonna retrofracta (Rowley 1997), that it may be pollinated ...
17 / 10 / 2016 | Refilwe Kolokoto | Compton Herbarium
Read More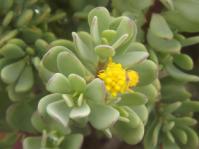 Common names:
bonsai othonna (Eng.); knolharpuis, knolrepuis,nu-nu, traap (Afr.)
... Karoo Desert National Botanical Garden August 2016   Othonna arbuscula is a deciduous, perennial, succulent shrub, ... or 2 discoid heads, at branch tips and on short peduncles. Othonna arbuscula flowers in winter and loses it leaves ... also has a shallow root system for easy water uptake. Othonna arbuscula occurs on rocky slopes with clay soil, in ...
15 / 08 / 2016 | Ricardo Riddles | Karoo Desert NBG
Read More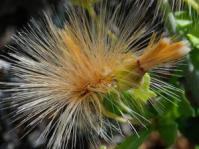 ... produces a one-seeded fruit known as an achene or cypsela. Othonna retrofracta is restricted to the winter rainfall ... the Robertson Karoo vegetation. In its natural environment Othonna retrofracta seedlings usually grow under shrublets ... tuft of hairs), assists with seed dispersal by wind. Othonna Harvest seed in August and sow in autumn. Use a ...
03 / 03 / 2014 | Shireen Harris | Karoo Desert NBG
Read More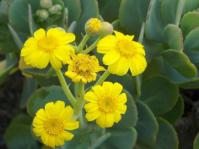 Common names:
toothed othonna
... to the high-water mark. Within its natural environment, Othonna dentata is usually found growing with Coleonema album ... cucculatum , Ruschia macowanii and Curio crassulifolius. Othonna This species is easily grown from cuttings. Take ... shrublet is relatively pest-free. The genus name Othonna is derived from the ancient Greek word  othonne , ...
14 / 10 / 2013 | Roger Oliver | Kirstenbosch NBG
Read More