Plants of the Week Advanced Search
Search results for "Oxalis" (displaying 2 of 2 on page 1)
Refine your search
Sort by date added
Sort Alphabetically
Common names:
grand duchess sorrel (Eng.); suuring (Afr.)
... National Botanical Garden December 2009 Oxalis purpurea is a summer-deciduous, winter-growing dwarf geophyte seldom ... dispersed by explosive dehiscence. Oxalis purpurea occurs naturally throughout the winter-rainfall parts of ...
21 / 12 / 2009 | Adam Harrower | Kirstenbosch NBG
Read More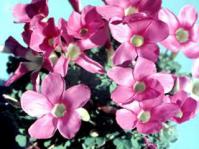 Common names:
sorrel (Eng.); suring (Afr.)
... Retief National Herbarium Pretoria August 2004 Oxalis , established by Linnaeus in 1753, is characterized by stem-less ... of purple and yellow are colours observed in the genusO. Oxalis is also characterized by obovate (inversely ovate), broadly obovate or ...
30 / 08 / 2004 | Elizabeth Retief | National Herbarium Pretoria
Read More