Plants of the Week Advanced Search
Search results for "Ozoroa" (displaying 3 of 3 on page 1)
Refine your search
Sort by date added
Sort Alphabetically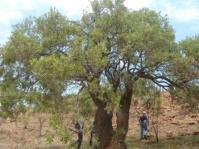 Common names:
currant resin tree; korenteharpuisboom (Afr.); imfuce lemnyamma (IsiSwati); monoko (Sepedi)
... Kwa-ZuluNatal. It flourishes in woodlands and bushveld. Ozoroa Within its family, species of Ozoroa are the most difficult to propagate. It is best to sow the seeds ...
08 / 12 / 2014 | Mahlatse Mogale | TSP
Read More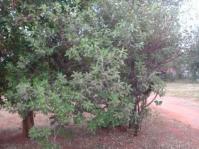 Common names:
broad-leaved resin tree (Eng.); breë blaarharpuisboom (Afr.)
... National Botanical Garden September 2011 Ozoroa obovata var. elliptica , a shrub which can also grow into a small ... inland in bushveld areas on rocky or loamy soils. Ozoroa When propagating Ozoroa obovata from seed use seedling mixture ...
05 / 09 / 2011 | J K Baloyi | Pretoria NBG
Read More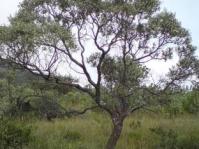 Common names:
common resin tree, bushveld ozoroa (Eng.): gewone harpuisboom (Afr.); isifice (Zulu); monoko (N. Sotho/Sepedi); mudumbula (Venda)
... leaves appear to be dark green above and silvery below. Ozoroa paniculosa bears scented, creamy-white flowers in terminal sprays. The ... Botanical Garden (Gauteng: Johannesburg). Ozoroa The germination success rate is usually very poor with this plant. ...
12 / 04 / 2010 | Terence Mabela | Walter Sisulu NBG
Read More