Plants of the Week Advanced Search
Search results for "Pachycarpus" (displaying 3 of 3 on page 1)
Refine your search
Sort by date added
Sort Alphabetically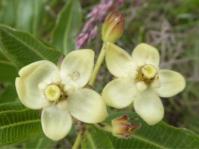 Common names:
Highflats pachycarpus
... Region December 2021 The perennial geophytic herb, Pachycarpus acidostelma, stands upright at 400 mm high, with ... to about 3.0–6.5 mm long. Fig. 2 . A plant and leaves of Pachycarpus acidostelma . The inflorescence grows in a ... hairs that grow to about 15–21 mm long. The flowers of Pachycarpus acidostelma are pleasantly scented, light cream ...
27 / 12 / 2021 | Kaveesha Naicker | CREW
Read More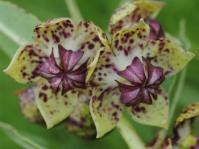 Common names:
Natal thick-fruit, Natal pachycarpus (Eng.); ishongwe elibomvu elikhulu (isiZulu)
... and in wetter years, they are larger in all aspects. Pachycarpus natalensis is a South African endemic species ... including Miraglossum pilosum and M . verticillare .  Pachycarpus To my knowledge this plant is not cultivated, but ... and hence he used this as the specific epithet. The genus Pachycarpus consists of about 27 taxa of which most are found ...
04 / 12 / 2017 | Stoffel Petrus Pieter Bester | National Herbarium Pretoria
Read More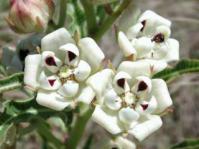 Common names:
cream cups (Eng.); bitterwortel (Afr.)
... Pretoria S.P. Bester National Herbarium January 2008 Pachycarpus schinzianus is a rough-textured, erect perennial ... in the wind-dispersal syndrome exhibited by these plants. Pachycarpus As with many members of this family that have a ... it is quite difficult to cultivate the plants. Plants of Pachycarpus generally have some of the most spectacular ...
21 / 01 / 2008 | Stoffel Petrus Pieter Bester | National Herbarium Pretoria
Read More