Plants of the Week Advanced Search
Search results for "Pachycarpus" (displaying 2 of 2 on page 1)
Refine your search
Sort by date added
Sort Alphabetically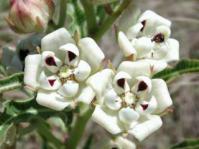 Common names:
cream cups (Eng.); bitterwortel (Afr.)
... S.P. Bester National Herbarium January 2008 Pachycarpus schinzianus is a rough-textured, erect perennial herb, 0.3 to 0.6 ... syndrome exhibited by these plants. Pachycarpus As with many members of this family that have a deep rootstock, ...
21 / 01 / 2008 | Stoffel Petrus Pieter Bester | National Herbarium Pretoria
Read More
Common names:
Natal thick-fruit, Natal pachycarpus (Eng.); ishongwe elibomvu elikhulu (isiZulu)
... in wetter years, they are larger in all aspects. Pachycarpus natalensis is a South African endemic species found in ... Miraglossum pilosum and M . verticillare .  Pachycarpus To my knowledge this plant is not cultivated, but would be best ...
04 / 12 / 2017 | Stoffel Petrus Pieter Bester | National Herbarium Pretoria
Read More