Plants of the Week Advanced Search
Search results for "Passerina" (displaying 3 of 3 on page 1)
Refine your search
Sort by date added
Sort Alphabetically
Common names:
gonna bush (Eng.); gonnabos, bakkerbos (Afr.)
... Kirstenbosch NBG Roger Oliver Kirstenbosch November 2006 Passerina corymbosa is the most frequently encountered species in the genus Passerina and varies in height from 1-3 m. The stems, which ... below, with four lobes above. There are no petals present. Passerina corymbosa usually occurs on slopes and sandy flats ...
27 / 11 / 2006 | Roger Oliver | Kirstenbosch NBG
Read More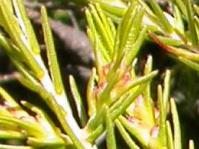 Common names:
bakkerbos (Afr.)
... pollination takes place, but they become red with age. Passerina filiformis s ubsp. filiformis is endemic to the ... sandy plains, like the Rietvallei and Stellenbosch Flats. Passerina filiformis subsp. filiformis is wind-pollinated, ... they germinate or are dispersed by ants, mice or birds. Passerina As these plants are small trees, they could make ...
25 / 10 / 2004 | Christien Bredenkamp | National Herbarium Pretoria
Read More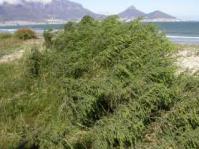 Common names:
Christmas berry (Eng.); dronkbessie (Afr.)
... Bredenkamp National Herbarium Pretoria October 2004. Passerina ericoides is a low, rounded, many-stemmed shrublet, ... species, often still enveloped by persistent flower parts. Passerina ericoides occurs from Melkbosstrand along the coast ... is the main distinguishing character of the genus Passerina . The anthers are borne outside the flower and ...
18 / 10 / 2004 | Christien Bredenkamp | Pretoria NBG
Read More