Plants of the Week Advanced Search
Search results for "Pelargonium" (displaying 20 of 64 on page 3)
Refine your search
Sort by date added
Sort Alphabetically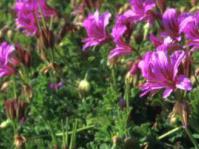 Common names:
dune pelargonium (Eng.) wildemalva
... information updated in August 2016   Pelargonium suburbanum subsp. suburbanum is a sprawling, mat forming ... to mid summer (June to well into January). Pelargonium suburbanum occurs in the winter rainfall area of southern Africa, ...
17 / 09 / 2001 | Hanneke Jamieson | Kirstenbosch NBG
Read More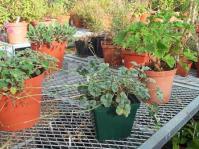 Common names:
black pelargonium (Eng.) kalwerbossie, rabassam (Afr.), ikubalo, iyeza lesikhali (Xhosa), khoara-e-nyenyane (Southern Sotho), umckaloabo (German remed
... Kirstenbosch National Botanical Garden May 2001 Pelargonium sidoides  forms a rosette-like plant with crowded leaves. It is ... shoorting again from the roots when the rains come . Pelargonium Pelargonium sidoides  can be planted in rockeries in full ...
28 / 05 / 2001 | Ebrahim Lawrence | Kirstenbosch NBG
Read More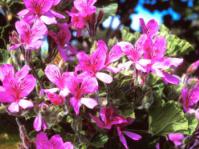 Common names:
hooded-leaf pelargonium, herba althaea (Eng.); wildemalva (Afr.)
... Garden November 2000   When in flower Pelargonium cucullatum is covered with pinkish, purple flowers and is the most conspicuous pelargonium in the south western Cape, especially when growing in dense ...
20 / 11 / 2000 | L May | Kirstenbosch NBG
Read More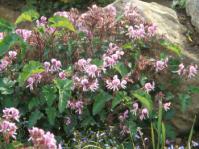 Common names:
heart-leaved pelargonium
... Kirstenbosch NBG September 2000 This attractive pelargonium flowers from June to January with a peak in September (spring). The ... petals are lighter in colour. The main stem of  Pelargonium cordifolium  is woody at the base, while the side branches are ...
18 / 09 / 2000 | Ebrahim Lawrence | Kirstenbosch NBG
Read More