Plants of the Week Advanced Search
Search results for "Petalidium" (displaying 2 of 2 on page 1)
Refine your search
Sort by date added
Sort Alphabetically
Common names:
Ruacana petalidium (Eng.); Ruacana rooibekkiebos (Afr.)
... are usually an adaptation to attract sunbirds. The Ruacana petalidium provides the bird with sweet nectar (energy) and in return, pollen ... The slightly leathery leaves aid in water conservation. Petalidium The Ruacana petalidium is best planted in a sunny, well-drained ...
08 / 03 / 2004 | Ernst van Jaarsveld | Kirstenbosch NBG
Read More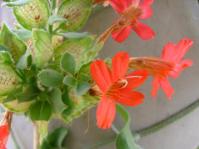 Common names:
Kaoko petalidium (Eng.); rooi-tongklapper, Kaoko rooibekkiebos (Afr.)
... smooth seed capsules are about 12 mm long. The Kaoko petalidium is restricted to northwestern Namibia and occurs in dry savannah in ... rapidly. The soil is a sandy loam and well drained. Petalidium Petalidum coccineum is a sight to see with its showy, red, ...
05 / 01 / 2004 | Ernst van Jaarsveld | Kirstenbosch NBG
Read More