Plants of the Week Advanced Search
Search results for "Phygelius" (displaying 2 of 2 on page 1)
Refine your search
Sort by date added
Sort Alphabetically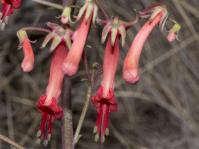 Common names:
southern river bell, wild fuchsia, Cape fuchsia (Eng.); rivierklokkie, foksia (Afr.); metsi-matsho (Sesotho)
... Free State National Botanical Garden July 2019 Phygelius capensis is a fairly small, evergreen herbaceous shrub, 0.3–1.5 m ... flowers in summer, from October to July. Phygelius capensis is usually found at high altitudes in the mountains of ...
08 / 07 / 2019 | Stemmer Ngalo | Free State NBG
Read More
Common names:
river bell, wild fuchsia (Eng.); foksia, rivierklokkie (Afr.); metsi-matso (Southern Sotho)
... National Botanical Garden July 2007 Phygelius aequalis is a robust, herbaceous perennial that grows up to 1m ... form called 'Yellow Trumpets' is available. Phygelius aequalis occurs along rocky stream banks in open woodland and ...
23 / 07 / 2007 | Karen Wall | Kirstenbosch NBG
Read More