Plants of the Week Advanced Search
Search results for "Phymaspermum" (displaying 2 of 2 on page 1)
Refine your search
Sort by date added
Sort Alphabetically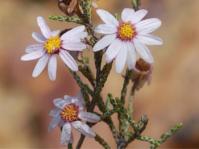 ... the year, although mostly in late winter to early summer. Phymaspermum appressum is endemic to Arid Protea Fynbos in ... throughout summer (Vlok & Schutte-Vlok 2010). The fruit of Phymaspermum have stalked glands between the ribs which ... fruit to the soil (Källersjö 1986; Ruiters et al. 2016). Phymaspermum is the only genus within the tribe Anthemideae ...
11 / 03 / 2019 | Anthony R. Magee | Compton Herbarium
Read More
Common names:
geelblombos (Afr.), isibhaha-segceke, umhlonishwa (Zulu)
... yellow. Flowering occurs from April until June (autumn). Phymaspermum acerosum is found growing in colonies along ... Mpumalanga, Swaziland, Gauteng and the Northern Province. Phymaspermum acerosum attracts insects and thereby improving ... bird life in the garden by attracting insectivorous birds. Phymaspermum acerosum is a rapid growing pioneer plant and is ...
21 / 07 / 2008 | Karen Wall | Kirstenbosch NBG
Read More