Plants of the Week Advanced Search
Search results for "Plumbago" (displaying 2 of 2 on page 1)
Refine your search
Sort by date added
Sort Alphabetically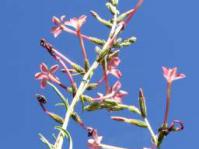 Common names:
Brandberg plumbago
... National Botanical Garden June 2006 Plumbago wissii is a spreading, multi-stemmed shrub, 60-80 mm high. It has ... but mainly in summer with a peak during April. Plumbago wissii grows among granite boulders and rocks and is only known ...
12 / 06 / 2006 | Ernst van Jaarsveld | Kirstenbosch NBG
Read More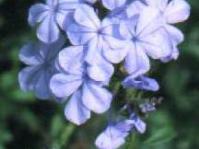 Common names:
Cape leadwort, plumbago (English); blousyselbos (Afrikaans); umabophe (Xhosa/ Zulu); umasheleshele (Zulu)
... - the white blooms appear to glow in the dusk. Plumbago is visited by butterflies and is one of the larval foods plant for the ... fairly common in gardens as a result of the popularity of plumbago as a garden plant. The distribution ranges from the southern ...
10 / 12 / 2001 | Alice Aubrey | Walter Sisulu NBG
Read More