Plants of the Week Advanced Search
Search results for "Pterocelastrus" (displaying 2 of 2 on page 1)
Refine your search
Sort by date added
Sort Alphabetically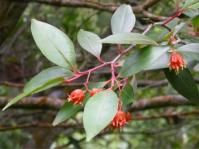 Common names:
red cherrywood, beaked pterocelastrus, red candlewood (Eng.); rooikershout, kersiehout (Afr.); ugobandlovu, usahlulamanye (Zulu); itywina (Xhosa)
... information and Jenny Potgieter for making her images of Pterocelastrus rostratus in flower available on iNaturalist. Pterocelastrus rostratus is usually a small tree 6-10 m tall, ... egg-shaped seeds from winter to midsummer (July-February). Pterocelastrus rostratus occurs from the Cape Peninsula and ...
11 / 09 / 2023 | Loretta Floors | Harold Porter NBG
Read More
Common names:
candlewood, cherrywood (English), kershout, kersiehout, rooikersiehout, witpeer, witpeerhout (Afrikaans), iBholo, iTywina, uTwina (isiXhosa).
... birds are the main dispersal agents of the seeds. Pterocelastrus This plant, being tolerant of a wide variety ... of more or less 80 species. There are 3 species of the Pterocelastrus genus in southeastern Africa. The genus name ... by Rock Pigeons, Mousebirds and other fruit-eating birds. Pterocelastrus tricuspidatus (Lam.) Sond. 409 Pterocelastrus ...
29 / 08 / 2005 | Jane Forrester | Harold Porter NBG
Read More